Post by Forte Wily on Jan 6, 2005 2:13:43 GMT -5
Aloha and Happy New Year, Croc fans! Welcome to
Croc: Hero of the Gobbos
- I'm your host, Forte Wily.
Until a couple of days ago, it was planned that
Croc: Hero of the Gobbos
was going to have to deliver the unfortunate news that Argonaut Games PLC., the creators and owners of Croc, have gone out of business, and that the fate of Croc was unknown. However, to our surprise, somebody contacted us and provided us with some truly excellent news! What is that news? Read on...
It is our absolute pleasure here at
Croc: Hero of the Gobbos
to announce that, after being missing-in-action for five-and-a-half years, Croc is set to return!
This news was most kindly brought to my attention by none other than a member of the team responsible for the new game, who e-mailed entirely out of the blue to let everyone know. Steve from Morpheme, give yourself a pat on the back - the thanks of myself and Croc fans everywhere go out to you.

Morpheme, for those who don't know, were one of Argonaut's "satellite" companies, and were saved from the same fate as Argonaut itself. Furthermore, these guys now own the rights to the Croc series, and it's them we have to thank for bringing our lean, mean, green reptilian hero back. You can now find their site linked on our
Links page
, or at
Morpheme.co.uk
.
Thanks to Steve's e-mail, we now know that the new Croc game is titled "
Croc Mobile: Jungle Rumble
". Also thanks to the info we were provided with, we have some great new character art in the
Gallery
(with a bit more to come after that), as well as a spiffy new logo for the site!
Furthermore, we have some screenshots of the brand new Croc game right here for you all to enjoy. Many thanks go out to regular site reader, Overlord, who took the time and effort to convert all of the
Croc Mobile: Jungle Rumble
media into a useable format for us;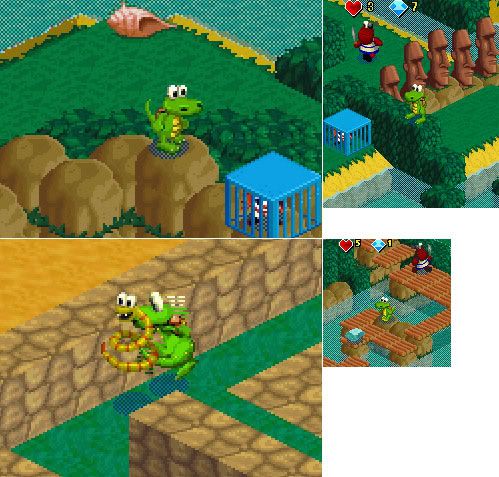 There's much more to see on Morpheme's official site for the game - you can read all about it by clicking
here
.
Remember, you heard it here first! Well, unless you read Morpheme's site before this one.

And now, I will leave you all to celebrate Croc's return.
Croc on, Croc fans, and a big warm welcome back to Croc himself.